Here at Good Ol' Days Garage and Bike Shop we design, build, service, and do upgrades on Traditional customs, hotrods, muscle cars, custom motorcycles and Harley Davidsons.
Meet The Team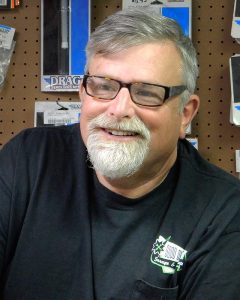 Tommy Eure (Owner)
Tommy's interest in automobiles started way back with his grandfather, who was a machinist/mechanic and worked in the shipyards in Newport News, Virginia. Tommy's father got into hot-rodding as a hobby and Tommy lowed along in the family tradition. Tommy's first car was a 1953 Chevy 150 2 door sedan that his parents bought for him at the age of 15 and he still owns the car. Tommy started turning wrenches for a living when he was 16. Tommy started Good Ol' Days Garage in San Antonio, Texas about 20 years ago. He then moved the shop to Kerrville Texas in 2006 so he could get back to the small-town country vibe that he loves. Tommy has built show winning hot rods and custom cars for the last 30+ years and loves everyday he gets to spend in the shop.
Brandon Eure (General Manager)
Brandon started his passion working on and building cars at the age of 10 at Good Ol' Days when his parents bought him a 1951 dodge 2 door club coupe that he and his dad put a Chevy 383 stroker motor in. He has always been side by side with his dad Tommy building hotrods and custom cars. Brandon has built show winning cars and trucks as well as custom Harleys. Brandon is an all-around car builder and can do anything needed to get the job done.
Wes Gordon (Shop Forman)
James Higgs (Lead Painter)
James is a paint and body composites specialist for over 30 years. He started at an early age and took interest in cars with his dad, working on their own classic cars and hotrods at home. After many years in collision and custom paint on vehicles he moved to the San Antonio area and for about ten years applies his skills in the aircraft industry in the areas of custom paint, composites, tooling and fabrication. (Now he's happily back into cars). In the more recent past he's been involved in national show winning builds that includes the autorama and various south Texas shows. Now as part of the team at Good Ol' Days he is our lead Paint and Body Tech and oversees our paint department. We are so glad to have him on our team.
David Lucas (Assembly / Mechanic)
"I guess I'm the oldest of the team at 66. I have been around-racing cars and motorcycles all my life, and still enjoy a good challenge of a custom build or race. I love what I do for a living, I'm just a little crankier with age lol."
David Brown (Old School Harley Mechanic)
"I started working with Jack Rucker (Jack's Cycle Service) in 1978 when I took my 1972 Sporty to his house where he took me under his wing and showed me all thing Harley. I worked with Jack restoring and rebuilding Harleys, I guess you could say I cut my teeth on Pans, Knuckles, Shovels. After Jack passed on to Harley Heaven I came to work for Good Ol' Days, working on bikes and that's when it went to Good Ol' Days Garage and Bike Shop to carry on Jack Rucker's Legacy. I am now Semi-Retired from Good Ol' Days but I'm still giving my 2 cents worth.
Jason Berry (Certified Motorcycle Technician)
Jason has always had a passion for old cars and motorcycles. Jason went to MMI in Arizona in winter of 2010. After he got out of school Jason went to work at Destination Cycles in Kerrville, Texas. Jason worked there for about 2 years, during that time he also took more classes to add to his always growing knowledge. He then took some time and opened his own shop before going to work at Javelina Harley Davidson in Boerne, Texas. Jason then came to work for us at Good Ol' Days Garage and Bike Shop. Jason says "I love what I do and love learning new thing. If you love your job you will never work a day in your life"
Bart Baccus (Office Manager)
Bart is the office manager at Good Ol' Days Garage. Bart is a native of Kerr County. Bart's grandfather was a mechanic and worked at Peterson Garage and Ken Stoepel Ford in Kerrville. After Bart served in the Navy he came to Good Ol' Days Garage and Bike Shop to fill a lifelong passion for the love of cars and motorcycles. Bart takes care of the front and helps in the office where needed.
2422 Junction Hwy, Kerrville, TX 78028
(830) 257-2376